The workshop
Liuteria d'Insieme is a lutherie workshop that is the fruit of the collaboration between Stefano Zanderighi and Marco Golinelli. For over ten years we have been building and restoring a vast array of instruments, this extensive and varied experience with so many different kinds of musical instrument allows us to guarantee the highest level of professional assistance in every situation.
Our production ranges from instruments for early music, constructed from the plans of original surviving instruments or inspired by iconography, to modern classical and steel string guitars. At the heart of our work is an enduring passion for musical instruments, and our production techniques - entirely handcrafted and artisanal, of course - make it possible to tailor every detail of the building process to the customer's wishes, starting from the selection of woods to the specific dimensions and the customization of every single detail on the instrument. Our careful selection of woods and seasoning processes and meticulous working methods guarantee that the finished instruments are of the highest quality, tailored to the specific needs of every musician, thus making each of our creations a unique, one-of-a-kind masterpiece.
Over the years we have collected a great amount of plans of instruments for early music from museums and private collections around the world, thanks to this archive we are able to offer a wide selection of instruments built on a strict philological approach.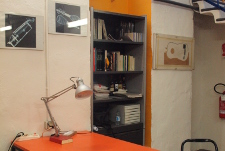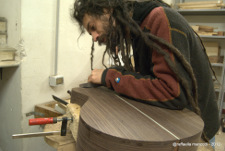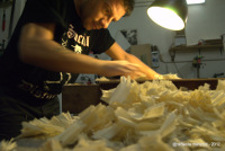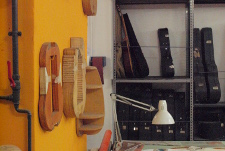 About us
Stefano Zanderighi e Marco Golinelli started working together in 2001, a project that would eventually lead to the birth of the Liuteria d'Insieme workshop. Students of Tiziano Rizzi and Lorenzo Lippi for the construction of musical instruments and Gabriele Negri for restoration, they mainly work on plucked string instruments.
Stefano Zanderighi works on classical and steel string guitars. After a long and detailed study of the instruments and methods of the great classical builders, he has developed his own models autonomously. An attentive evolution of his building methods and painstaking research into tone and timbre has led to the creation of a personal line of guitars whose main characteristics are a very elegant design and a rich and complex sound.
Marco Golinelli specializes in building instruments of thelute family as well as early guitars and mandolins. His work is characterized by great care in researching original models and early building and painting methods; the instruments he builds are distinguished by their great fidelity to original models, without losing sight of building details and obtaining a rich and dynamic sound.

Liuteria d'insieme snc
via Vincenzo Foppa, 30 - 20144 Milano
VAT N. 04127590968
Tel. +39 02 48 01 26 74
e mail: info@liuteriadinsieme.it